Don't retire, kid: Our four biggest takeaways from the Project Play Summit
10.02.2019

Young athletes share their stories at the Project Play Summit.
Don't retire, kid.
That message anchored the Aspen Institute's 2019 Project Play Summit, which brought more than 500 leaders in sport and youth development to Detroit this September. Over two days, representatives from national athletics organizations, nonprofit and philanthropic professionals, parents, and kids discussed how we can make sports work for all kids.
There's a major need for these conversations. A recent study by the Aspen Institute found that most kids "retire" from sports by the age of 12. Just 38% of kids between ages six and 12 play sports regularly—down from 45% in 2008. Sometimes it's because sports are too expensive; travel and equipment can cost thousands of dollars per year. Sometimes, it's because sports get too competitive or intense. When sports stop being fun, kids stop playing.
This is a big concern. Kids who don't play sports miss out on a guaranteed form of physical activity; they're less likely to get the amount of exercise they need to stay healthy. However, they also miss out on opportunities for social and emotional development. When they're done right, organized sports can help kids build self-esteem, set goals, learn teamwork, and practice leadership.
At the Susan Crown Exchange, we're all about preparing kids to thrive. We're especially interested in social and emotional learning (SEL) – the development of skills like empathy and collaboration, which have been linked to improved academic results and better life outcomes for kids.
Sports certainly aren't the only way that kids build these skills. But with 45 million kids playing sports each year in the US alone, the potential is huge. We came to this conference with an open mind, excited to hear from a diverse set of experts on how we can make sports better for kids. Here's what we learned.

The session we co-hosted with the Aspen Institute: How to Coach Social and Emotional Skills
Sports aren't just physical. We believe that social and emotional skills are critical for a child's development. As it turns out, we're not alone. Together with the Aspen Institute, we hosted an interactive session about why these skills matter, how sports can help children build them, and the role of coaches in a young athlete's development. Nearly 100 people from a variety of backgrounds attended. Our participants gave us invaluable insights into how we can empower coaches to adopt SEL-informed approaches, making sure that the young athletes they support are prepared to thrive.
We need to make sports better for kids. No matter where they came from in the world of sport, it seemed that everyone agreed on this. Parents spoke compellingly about the pressures their children faced from a young age. A panel of children agreed. Nonprofit leaders stressed that some kids can't access sports at all—kids from low-income homes are half as likely to play sports as their upper-income peers. These are thorny issues, and we need to tackle them from all angles. We think that well-trained coaches will be particularly instrumental in addressing issues like these, and that an SEL-informed approach to coaching can have an outsized impact on the social and emotional development of young athletes.
There's a lot we're still figuring out. It seems that everyone agrees that something needs to be done to make youth sports better. What's less clear is what. Being fairly new to the world of sport, we were fascinated by some of the open questions that came up. Given what we know about the pressure kids are under, what is the role of competition? How can parents promote sports sampling—encouraging kids to try different sports—without overscheduling their children? How can we increase the demand for well trained coaches? These are questions that the field hasn't answered yet—but it's white spaces like this that excite us.
Everyone has a role to play. Perhaps our favorite part of the conference was the diversity of perspectives welcomed. A panel of kids shared their experiences with sport. Their parents followed up with their own stories. Athletes with disabilities and their able-bodied teammates spoke candidly about what they each had learned from participating in integrated sports. And civic, philanthropic, and business leaders discussed the large-scale interventions needed to bring sports to more kids on a macro scale. Keynote speaker David Brooks referred to sports as a "social fabric" that can help build a just and kind society; it's clear that many actors play a part in weaving that fabric together.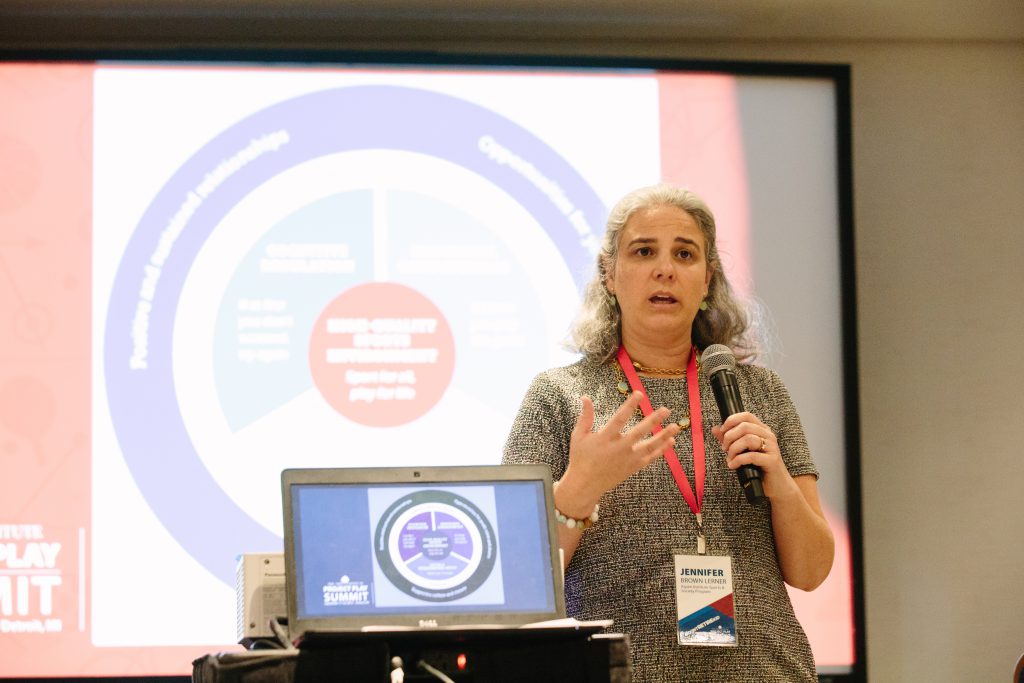 Jennifer Lerner of the Aspen Institute's Sports & Society Program introduces the session.
As we explore the connections between sports, SEL, and youth development, we're excited to keep learning—and to think about how we might play a part. If you know of any great resources or organizations that are also interested in this topic, let us know. We'd love to learn from them.
Learn more about our partnership with the Aspen Institute here.
All photos © Aspen Institute Project Play